You may suffer from some depression and anxiety. You may suffer from a lot of depression and anxiety. I'm the latter. In these crazy times of a pandemic, it's gotten even worse, and I'm sure you feel the same. People who have never had depression and anxiety are now seeking medical attention and therapy. You're not alone. So how does hot yoga figure into the equation?
Yoga is my life raft–literally. I do yoga not only for the physical health benefits; I do it mainly for the mental health benefits. You may have experienced it yourself—it's deep winter, you don't want to go, would rather snuggle into your jammies and watch TV, but force yourself because you know you will leave feeling positive, refreshed, confident, and inspired. The hardest part is getting there, as your instructors assure you. You have already done the hardest part of hot yoga—getting into the room. (Heard this before?)
The instructors at The Hot Room truly believe in my capabilities and are such a strong, positive force—each and every one of them welcomes me with a smile and says goodbye like a proud parent. They truly care about their yogis. And we are THEIR yogis, as they lovingly shepherd us through super challenging classes. They believe in us, pushing us to believe in ourselves. And when we leave that room, we do indeed feel powerful and in control, even if we're just in control of one hour of hot yoga. We rocked it, and we move into the rest of our day feeling powerful.
The mental health benefits of yoga have been well documented, that's nothing new. But let me tell you my story. Last summer, I was so depressed and riddled with anxiety that I had to take a break from work. You may not relate to this, but I'll bet you relate well to a feeling of burnout and negativity at some point in your life, maybe right now. My one constant mood booster was going to The Hot Room, especially the outdoor classes. I would arrive feeling so depressed and leave feeling happy and exhilarated. See you tomorrow! I can't wait. The next day, the exhilaration was gone, but I made myself go, remembering those positive feelings, and after class, I experienced once again a wave of positivity and inspiration. As our instructors say, remember this feeling. It is indeed my driving force.
There is no judgment at The Hot Room. When you come into that room for Original Hot Yoga, you focus on yourself and your own two eyes. When you come into another style of class, you are concentrating on form and getting through class, controlling your breathing while challenging your physical capabilities. Your neighbor is not judging you. It's group energy you can feel—it's palpable. You wish your neighbors the best as you give them socially distanced high fives. The Hot Room is a safe and inclusive environment. This gives me a positive feeling of belonging, friendship, and inspiration.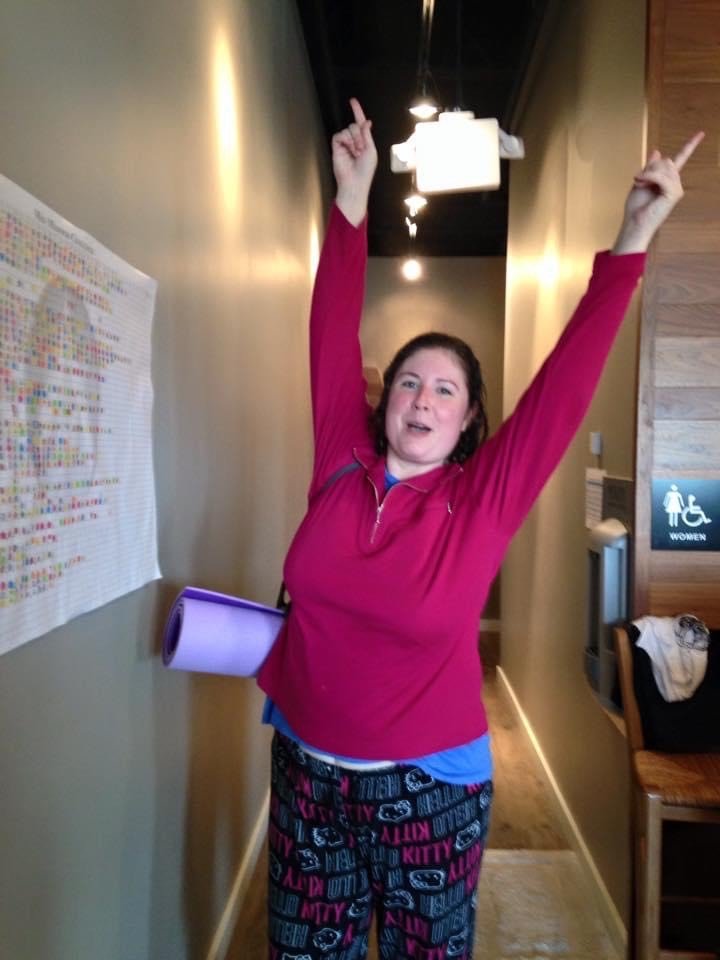 No matter what, I just keep coming back. That is my No. 1 advice to anyone who is struggling with mental health issues, from someone who has been managing a mental illness for a lifetime. At different times, I've taken several months off, or I've come seven days a week. No matter where I was in my life and journey, I knew that I would return to The Hot Room and that the instructors were so happy to see me again.
I've never regretted coming in for a class. Remember that feeling. Let it drive you, as you gain a little bit of control in this hectic world, a crummy job situation, a challenging relationship, just a feeling of blah, whatever you are feeling. Just keep coming back. You can feel that the instructors are proud to see you came back, and are excited to guide you through class. We all leave exhausted, but in the best possible way. You can do this. You can do life. You can get through whatever you are feeling because you have hot yoga to guide you. Just keep coming back. We're all here rooting for you.