40-HOUR YIN YOGA TEACHER TRAINING
IMMERSE | ADVANCE | TRANSFORM |
The Hot Room Leadership Institute 40-hour yin yoga teacher training is a unique teacher training designed to advance your teaching and leadership skills for greater skill and mastery.
You will IMMERSE

yourself in expanding your practice, deepening your knowledge, and an inward journey of self-study.

You will ADVANCE

your teaching, your own practice, and your leadership skills.

You will TRANSFORM

your ability to adapt your yoga instruction to meet the needs of all students, to transform your understanding and depth of knowledge of yoga history and philosophy, and your ability to incorporate it into your teaching and as a part of your natural self-expression. This training will transform how you show up as a leader in your teaching and other areas of your life.
Yin yoga is the greatest compliment to the many yang practices at The Hot Room. Yin works your ligaments, fascia, joints and bones that are not usually exercised and requires stillness so that you can give your body and mind space to heal. This training will equip you with the tools you need to offer a powerful Yin yoga class at The Hot Room. In 40-hours you will learn about:
Yin History & Yoga Philosophy
Basic Postures
Theming and Sequencing Mental Management
Traditional Chinese Medicine & 5 Element Theory
The Subtle Energy Body
You will build on your current expertise as a teacher and deepen and expand what you bring to your teaching and to your leading. This training will also give you impactful tools to develop and evolve your self-study as a teaching and personal growth tool.
WHAT YOU CAN EXPECT
EVOLVE YOUR LENS AS TEACHER AND LEADER TO INTEGRATE FUNCTIONAL ANATOMY AND BODY MECHANICS, SEQUENCING AND THEMING, HISTORY AND PHILOSOPHY TO CREATE AN OVERALL EXPERIENCE THAT CULTIVATES WHOLE HEALTH AND WELL-BEING.
MEET YOUR FACILITATORS
ABOUT ERIN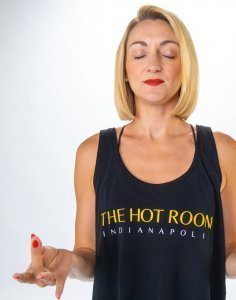 Erin Polley is a certified E-RYT 200, RYT 500 & Reiki Practitioner. She completed 80 hours of Yin training with Kelly Curry, a student of Michelle Finch who was a student of Sarah Powers, Jo Phee and Paul Grilley. She has additional training in Yoga Nidra, Meditation, Ayurveda and is currently pursuing a certification in Integrative Somatic Trauma Therapy through Embody Lab. It is Erin's passion to create transformational experiences for people so that they can heal themselves and the world. She has led yoga retreats in Mexico, Costa Rica, the U.S. and Portugal.
DEEPEN AND EVOLVE YOUR PASSION FOR YOGA AS A TOOL FOR TRANSFORMATION AND CHANGE IN YOUR LIFE AND THE LIVES OF OTHERS.
Yin Yoga Teacher Training
Investment: $899
Buy Now
March 1-3 & March 15-17
Fridays, 6-9pm
Saturdays, 9am-6pm
Sundays, 9am-6pm
Location: Indianapolis, IN
Course highlights:
Review Yin Yoga history, philosophy, and principles
Establishing a safe yoga practice using the principles of stressing, compression and tension
Physiological, energetic, and psychological benefits of Yin
Contraindications and adaptions of common medical conditions
Functional and energetic anatomy
Eastern and western energy system models
Insight into energy including prana, chakras, and meridians
Integrating themes into your yin class
Sequencing and delivering a vinyasa (yin and vinyasa combo) class
Understanding the difference between a yin and yang styles of yoga
Sequencing and delivering a Yin and Yoga Nidra practice