RECHARGE. RENEW. REJUVENATE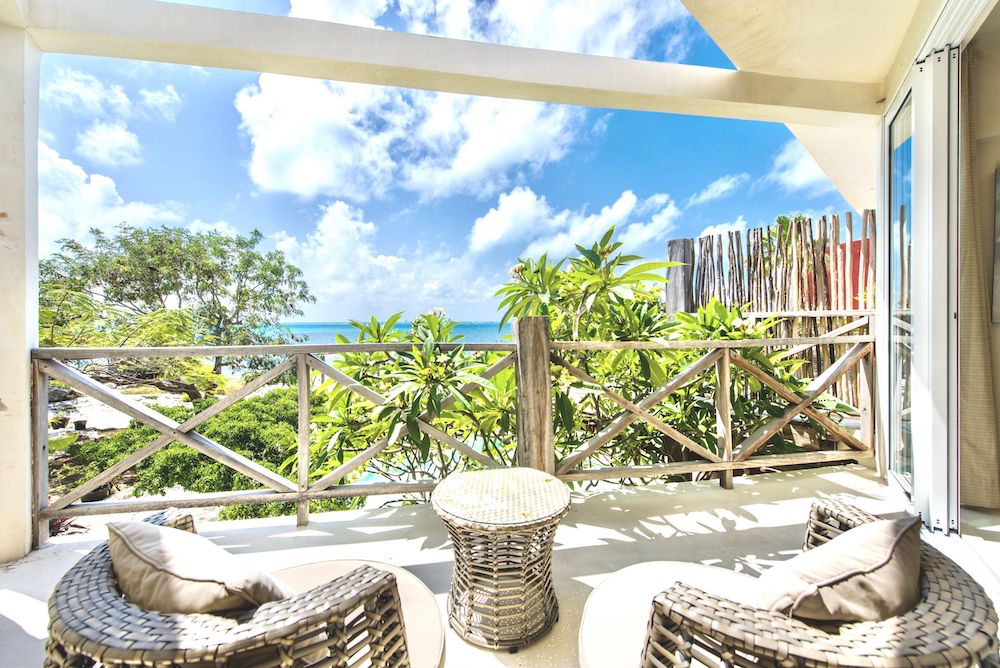 VOYAGE TO A BRIGHTER 2024
DECEMBER 1 – 7, 2023
Nestled at a secluded private seaside villa, our retreat offers the ultimate in tranquility and exclusivity. Breathe in the salty ocean air as you explore the culture of Mexico and unwind in the lap of luxury. Each guest room boasts opulent furnishings, private en-suite bathrooms, and stunning views of the ocean, ensuring that your stay is both comfortable and inspiring.
Beyond yoga and workshops, you'll have ample opportunities for self-care and rejuvenation. Stroll along the pristine beach, meditate to the soothing sound of the waves, or luxuriate by the poolside. Optional spa treatments and rejuvenating Reiki sessions are available to enhance your overall sense of well-being.
Guided by the nurturing presence of Erin Polley, a seasoned 500-hour Registered Yoga Teacher (RYT) and Reiki practitioner, you'll embark on a soulful exploration that combines self-care, luxury, and mindfulness.
Prepare to immerse yourself in an unforgettable week of self-discovery, relaxation, and transformation with The Hot Room. Your voyage to a brighter 2024 begins here.
ABOUT VILLA ENCANTADA RETREAT CENTER
Villa Encantada's six oceanfront suites are located on Isla Mujeres, off the coast of Cancun. Well-appointed indoor and outdoor lounge areas and beach access coupled with resort-amenities ensure an exclusive luxury Caribbean experience.
After passing through the gated entry, guests are welcomed by a grand three-story entry hall including an exciting water feature. Beyond the formal entrance, guests have the choice between formal sitting area, media room and dining and living great-room next to the spectacular kitchen. Opening the wall of folding patio doors allows guests to truly take advantage of the picturesque setting by creating an alfresco dining experience with the infinity pool. Guests may also enjoy relaxing on the rooftop lounge or exclusive beach area complete with outdoor grilling space and kayaks.
For those interested in activities, a short ride away is the charming cobblestones of Hidalgo street and other colorful attractions in this officially designated magical city. The dazzling natural setting also provides ample opportunities for scuba diving, snorkeling, whale-shark excursions, and other sanctuaries. Further afield, day trips put Mayan sites and private cenote experiences within easy reach. Villa Encantada truly offers something for everyone.

OUR PROMISE IS TO CURATE A MEMORABLE EXPERIENCE FILLED WITH MOVEMENT, EXPLORATION, AND RELAXATION. YOU WILL LEAVE FEELING ENERGIZED, RESTORED, AND MORE CONNECTED TO YOURSELF, ONE ANOTHER, AND THE WORLD.
WHAT'S INCLUDED
6 nights oceanfront accommodations at a luxury villa with in-suite bathrooms
2 Reiki sessions with Erin
Private chef offering healthy and nourishing brunch and dinner
Transportation to and from retreat center
Sunrise and sunset views of the ocean
Yoga, pilates and special workshops 2-4x/day
Daily workshop to help you get clear on your 2024 goals and planning
Yoga mats, blocks, bolsters and towels
Private pool & beach access
Kayaks and paddleboards for ocean adventure
Wi-fi
Air-conditioned rooms
Daily housekeeping
24 hour security
OPTIONAL EXCURSIONS
Sunset Catamaran Cruise
Snorkel Tour
Isla Contoy Tour
NOT INCLUDED
Your flight to Cancun International Airport
Optional excursions
Optional spa treatments
Optional 1:1 sessions with THR instructors
Gratuities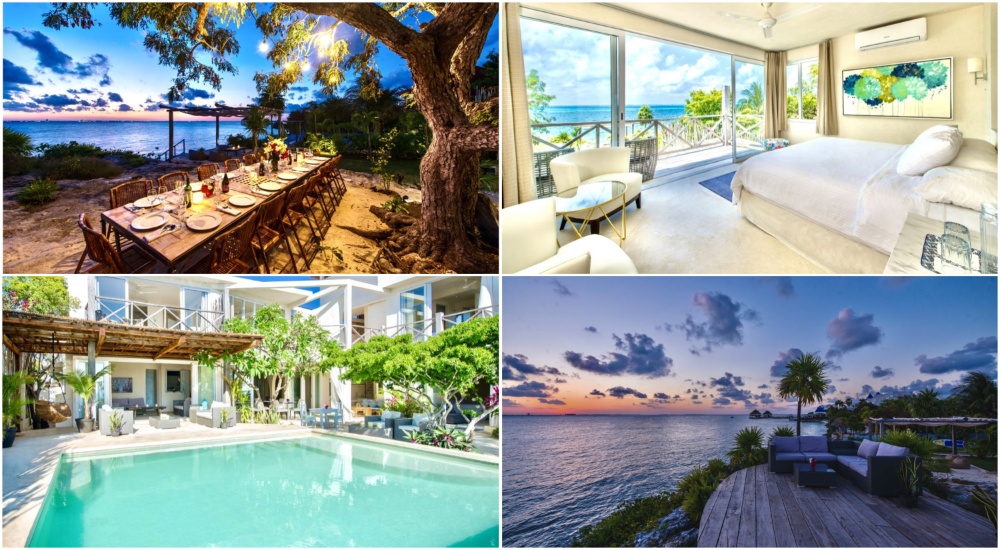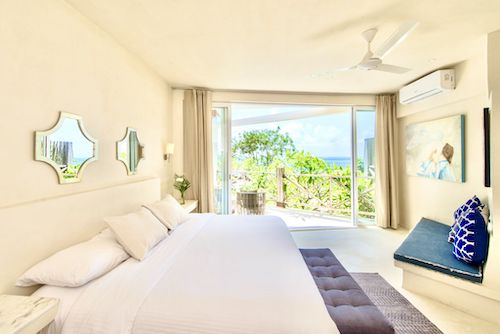 Villa Encantada Room Rates
December 1 – 7, 2023
Beautifully decorated with serenity in mind, the courtyard main floor king suite, two-bed suite with partial view, either two ocean view king suites, or the Penthouse Suite with a spectacular 360-degree view, each of the Villa's six suites provide an oasis within an oasis.
Pricing:
Double Occupancy - $3,042
Double occupancy 360 ocean view - $3,342
No single rooms available.
Payment plans available as low as $250/month.
$500 deposit to secure your spot.
SECURE YOUR ROOM - $500 DEPOSIT!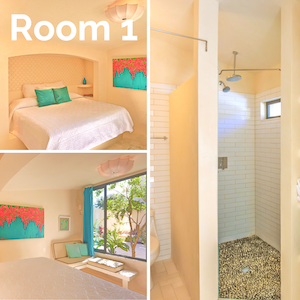 Room 1 is a Garden View with King Bed.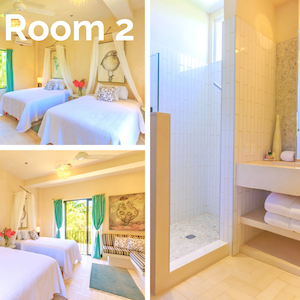 Room 2 is a Garden View with 2 Queen Beds.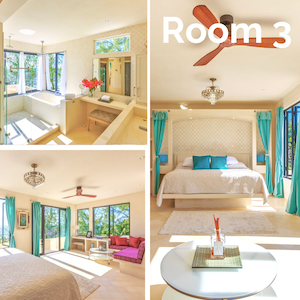 Room 3 is an Ocean View with 1 King Bed.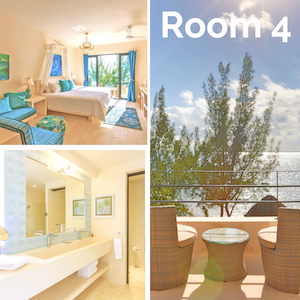 Room 4 is an Ocean View with 1 King Bed.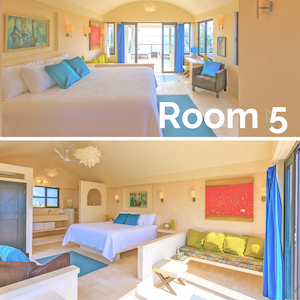 Room 5 is a 360º Ocean View with 1 King Bed.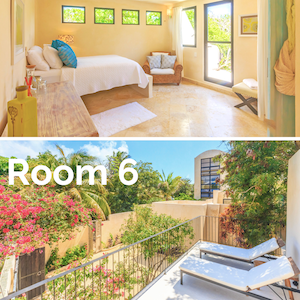 Room 6 is a Garden View with Queen Bed.
SECURE YOUR ROOM - $500 DEPOSIT!
FREQUENTLY ASKED QUESTIONS
Isla Mujeres is a magical town with a romantic and relaxed atmosphere, with a great natural wealth, Mayan vestiges and Caribbean culture; located just 6 kilometers northeast of Cancun.
Villa Encantada's six oceanfront suites are located on Isla Mujeres, off the coast of Cancun. Well-appointed indoor and outdoor lounge areas and beach access coupled with resort-amenities ensure an exclusive luxury Caribbean experience.
This eco-friendly, luxury retreat center is located on the oceanfront with glorious sunset views. Our private chef will prepare healthy and delicious meals for us 2x/day.
We will be taking advantage of the warm weather and insect free environment and practice outside on the pool deck and beach.
Isla Mujeres is a small island but there is plenty to see and experience. The island has wonderful food, a quaint nightlife and lots of shops to peruse for souvenirs, art and the best prices for tequila you can find. North Beach has boutique hotels and oceanfront bars and restaurants for a more vibrant scene. The south end of the island has ancient ruins to explore as well as a turtle sanctuary. You can easily get around the island on bicycle, golf cart or by inexpensive taxis.
There are several walk-up massage tents on the beach for an affordable price. Private massages in your room can be booked through Villa Encantada. Erin will offer 2 reiki sessions to each person throughout the week.
Payment is due in full 30 days before the date of departure unless otherwise specified by THR. Payment plans may be set up with payments charged on the 1st and 15th of the month. A $500 deposit must be paid to reserve your spot and set up a payment plan. Space is limited, and reservations will be based upon the dates deposits are received. If registrations exceed space available, priority will be given by the registration deposit received to date. We reserve the right to cancel the trip if it is not meeting the trip minimum and your deposit is returned. Trip cancellation insurance is always recommended.
Yes! If you have a retreat balance with us, we can apply any part towards the cost of this retreat. Please keep in mind you may lose your place in a future retreat if you transfer the deposit to this one.
The Hot Room will notify retreat guests immediately if a retreat must be postponed due to travel restrictions or if the minimum registration isn't met. The retreat will be moved to a later date at least 4-6 months out to allow guests to make their arrangements to attend.
All flights should arrive at Cancun International Airport and transportation will be provided to the retreat center. Arriving in Isla Mujeres will require about a 20 minute ferry ride.
Yes, your transfer to and from the retreat center is included in the price of the retreat.
All arrivals to Cancun International Airport shall arrive by 3pm on Dec 1 and depart after 12pm on December 7.
Yes, your transfer to and from Isla Mujeres is included in the price of the retreat.
It is highly recommended that you purchase travel insurance and choose a "Cancel for Any Reason" add-on which you can purchase from some insurance providers when buying specific plans. By paying extra for this coverage, you can cancel for any reason under the sun as long as you follow the policies' purchase and cancel stipulations. Here's a great article on this add-on and what it does and doesn't cover.
Here's a great place to compare quotes on travel insurance.

Embark on a transformative journey of self-discovery and renewal at our breathtaking retreat on Isla Mujeres, Mexico. Set against the backdrop of the tranquil sea, this retreat offers a unique opportunity to immerse yourself in daily yoga, reiki healing, and the invaluable art of goal setting for the year ahead to manifest your dreams. Learn how to weave self-care practices into your daily routine, ensuring your well-being sustains the positive work you aspire to do. Connect with like-minded individuals on the same path to self-discovery and personal growth.